Author: Dr. Anil Pinto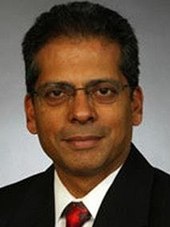 Dr. Anil Pinto
Have you not been able to get pregnant after a year of having unprotected sex? Have you had a pregnancy end in miscarriage? You may be suffering from infertility, which is defined as the inability of a woman to conceive after a year of having unprotected sex, or the inability to sustain a pregnancy.
There are many causes of infertility. Problems with ovulation or the timely release of an egg due to conditions such as polycystic ovarian syndrome (excessive amounts of male testosterone hormone) and hyperprolactinemia (high amounts of prolactin hormone released) can make it difficult to conceive. Other causes may include damaged or blocked fallopian tubes, abnormalities in the cervix and uterus, and premature menopause (menstruation that stops before the age of 40). Certain medical conditions such as diabetes, endometriosis, thyroid disorders, sickle cell disease or kidney diseases, can also affect your fertility.
You are at a greater risk of infertility if you smoke, consume excess alcohol, or are overweight, obese or underweight. Your risk for infertility also increases with age. As you age, the quality and egg reserve begins to decline. With many women today delaying a family until their late 30's, more and more women are facing problems with fertility.
However, infertility is not limited only to women. You may be unable to get pregnant because of a problem in your partner. Male infertility is characterized by the inability to produce sperm in semen, low sperm count, or abnormal structure or motility (movement) of the sperm.
The cause for your inability to conceive can be determined by a thorough review of you and your partner's medical history, physical examination, and evaluation of your hormones and reproductive organs, and analysis of your partner's semen.
Depending on the cause of infertility, there is a range of treatment options available. Some of these include fertility drugs for ovarian disorders, surgical procedures for treating uterine problems and assisted reproductive techniques, which may include intrauterine insemination (IUI) and in vitro fertilization (IVF). Gestational surrogates may also be considered in cases of a nonfunctional uterus.
Whatever the reason, dealing with infertility can be difficult, stressful and emotional, but there is hope – about two-thirds of couples treated for infertility conceive successfully! We are happy to address your concerns and lay out a plan of treatment for your particular situation.