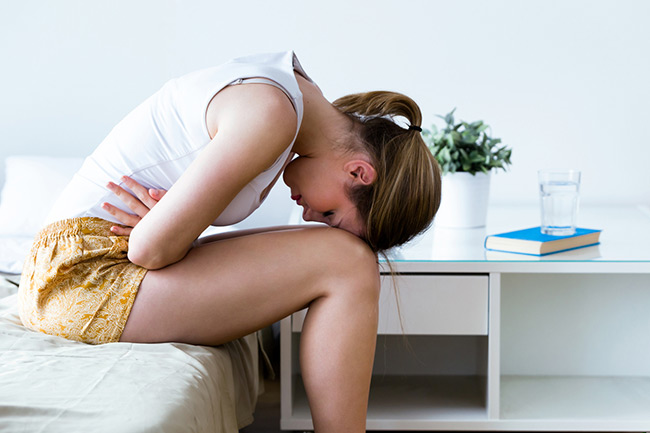 Endometriosis is an extremely common condition that affects about 30% of women during their child-bearing years between the ages of about 15 to 45. The month of March is celebrated as Endometriosis Awareness Month to help more women understand the facts about this condition.
It has been suggested that during menstruation, some of the blood may flow back into the pelvis taking with it endometrial cells similar to those that line the womb. These cells are able to attach themselves to the peritoneal surfaces inside the abdominal cavity and new blood flow is established to nourish these cells and they continue to proliferate.
In the normal situation, the immune system will deal with these abnormal endometrial cells and they will be eliminated, but for some women this doesn't happen. As a result, every month these endometrial cells are stimulated by the normal hormone cycle and ovulation and they proliferate. When they proliferate, they may also bleed and cause irritation. This can lead to fibrosis, formation of adhesions, which can in turn cause pain particularly if the endometriosis is associated with the nerve supply in the pelvis. Endometriosis can also occur elsewhere in the body and this may also be due to blood-borne spread.
Endometriosis isn't like cancer, but it is serious in the sense that it can give rise to really unpleasant symptoms. A woman having difficulty getting pregnant, painful periods, and pain while having sex may be suspected to have endometriosis. It is easy to see how endometriosis can have a really big impact on women's lives. To add to the frustration, the condition is difficult to identify and treat.
If the condition is mild, hormonal treatment may be used to treat the condition. For moderate symptoms, depot progesterone may be given as a contraceptive injection, implant, or coil that is put inside the womb with progesterone in it.
The key to treatment is accurate diagnosis. To confirm the diagnosis, a laparoscopy may need to be performed to identify exactly where the endometriosis is located. The endometrial tissue can also be excised during the same procedure. If the condition is really bad, more than one operation might be required along with hormonal treatment in between. The treatment may vary from person to person and will also depend on if pain reduction and achieving pregnancy is the main goal of the patient.
ReproMed Fertility Center offers personalized fertility treatments in four convenient locations in the Dallas metroplex and one in Tyler. Please contact us at (214) 827-8777 for all appointments and information.
Dr. Anil Pinto is board certified in Obstetrics and Gynecology and the subspecialty of Reproductive Endocrinology and Infertility. Dr. Pinto has a special interest in the treatment of Polycystic Ovarian Syndrome (PCOS), recurrent pregnancy loss, and advanced reproductive technologies, such as IVF. He is actively involved in research and has several publications in peer-reviewed journals. He also lectures and teaches frequently on various topics related to reproductive endocrinology and has several teaching awards to his credit. Dr. Pinto is a clinical assistant professor of obstetrics and gynecology at University of Texas, Southwestern School of Medicine and is a member of several professional associations. His peers recently selected him as one of the Best Doctors in Dallas in the field of reproductive endocrinonology and infertility. Dr. Pinto is married to Karen Pinto, M.D., a pathologist at Baylor University Medical Center. They live in Dallas with their son and daughter. Dr. Pinto enjoys fly fishing, classical music, and playing the flute.