Author: Dr. Anil Pinto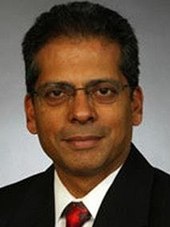 Dr. Anil Pinto
Polycystic ovarian disease, also known by the acronym PCOS, is a common reason many women have trouble becoming pregnant. Women with this condition have ovaries that are bigger than normal and these ovaries contain tiny cysts with immature eggs.
PCOS Awareness Month is an initiative aimed at raising awareness about polycystic ovarian disease and providing support for women diagnosed with this condition. Several activities are planned during the month of September to help women better understand PCOS as well as care for and love their own bodies.
PCOS affects women of reproductive age. Usually, an excessive amount of androgen is produced which is considered a "male hormone." This hormone can cause growth of facial hair, male-pattern baldness, acne and menstrual problems. Obesity is often associated with polycystic ovarian disease and can worsen or complicate signs and symptoms of the disease.
Adopting a healthier lifestyle and losing a modest amount of weight may result in a dramatic improvement in PCOS. Reducing carbohydrates, being more active, and maintaining a healthy weight helps to reduce your blood sugar and lower androgen levels.
However, if your symptoms are not controlled by self-management, then you may need to seek professional medical help. In addition to a physical exam, your doctor may order an ultrasound to visualize your ovaries and a blood test to check your hormone levels.
Your doctor may prescribe a combination of medications such as birth control pills and hormonal therapy to bring your hormonal levels back to normal and help you ovulate. Medications may also be prescribed to stimulate your ovaries. Electrolysis and creams may be used to remove unwanted hair.
If you suffer from PCOS and would like to become pregnant, a reproductive specialist at ReproMed Fertility Center would be better able to assess your condition and prescribe the right combination of medications and treatment to prepare your body for the conception and growth of your baby.
ReproMed Fertility Center is committed to providing comprehensive infertility and reproductive health care, including In-vitro fertilization (IVF). Our physicians formulate individualized treatment plans for each patient so they have the best chance of conceiving. ReproMed Fertility Center can offer new hope to those seeking to overcome infertility in the Dallas-Fort Worth area.