Author: Dr. Anil Pinto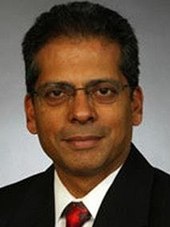 Dr. Anil Pinto
Ovarian cancer, the deadliest of all female cancers, is often undetected in its early stages, but diagnosed once it has spread within the pelvis and to the abdomen. The death toll for ovarian cancer is about 140,000 each year among the approximately quarter of a million women diagnosed globally. When compared to the 89% survival rate of breast cancer, only 45% of women suffering ovarian cancer survive for five years. The main reason for this is the lack of screening, misdiagnosis or late detection.
Early symptoms of ovarian cancer such as increase in abdominal size, persistent bloating, early satiety, abdominal or pelvic pain, and increased urinary frequency or urgency are often mistaken for other less severe gastrointestinal conditions. While these signs and symptoms may not be serious, it would be better spending a little time and effort going to your doctor for a check-up to rule out ovarian cancer rather than suffering the consequences of a late diagnosis.
So, how can you minimize your risk of developing ovarian cancer, you may ask? The most important step is being aware of your risks and causes of ovarian cancer. Family history of ovarian cancer, individual history of breast cancer and your age play an important role in determining your risk of developing the cancer. You may be advised to seek genetic counseling and testing if:


You have a close relative who has had or is suffering from this condition


Are more than 55 years of age


Have never used the pill


Never had children


Have had an early onset of periods or late menopause


Have suffered from endometriosis



Genetic testing will identify any mutations in your genetic makeup that put you at a high risk for developing ovarian cancer. Your doctor may also advise regular blood tests and pelvic imaging to detect the cancer at an early stage.
Some of these risk factors are not in your control, but there are some simple everyday choices that you can make to minimize your risk of developing ovarian cancer. These include:


Lifestyle changes such as regular exercise, incorporating fruits and vegetables, taking vitamins especially vitamin D, avoiding excessive alcohol and smoking cessation


Using contraceptive pills


Taking a daily aspirin


Conceiving and breastfeeding



If you belong to the high risk group, you have the option of choosing risk-reduction surgery by having one or both your ovaries removed. Recent research has even suggested that you might be able to remove your fallopian tubes initially followed by delayed removal of the ovaries. This surgery has been found to reduce the risk of ovarian cancer 85-90% in post-menopausal women.
Even though risk reduction methods make conceiving children at a later date difficult, you can still improve your chances of carrying your own baby by opting for embryo banking or egg banking, provided your uterus is intact. In case your uterus is damaged or you have had a hysterectomy you can still have biological children through a surrogate.
To summarize, leading a healthy lifestyle, early evaluation of symptoms, and planning ahead allow you to minimize your risks for ovarian cancer and maximize your options for future pregnancies.
ReproMed Fertility Center is committed to providing comprehensive infertility and reproductive health care, including In-vitro fertilization (IVF). Our physicians formulate individualized treatment plans for each patient so they have the best chance of conceiving. ReproMed Fertility Center can offer new hope to those seeking to overcome infertility in the Dallas-Fort Worth area.