Author: Dr. Anil Pinto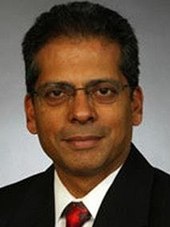 Dr. Anil Pinto
When couples are unable to have a baby, many question the fertility of the woman, but it is important to remember that the egg from the woman and sperm from the man together result in pregnancy. This means that there are chances that the male partner is the cause of not being able to conceive. Statistics show that male infertility is the cause of non-conception in 20% of couples.
Male infertility is determined by the number of sperm produced in an ejaculate and the quality of sperm – if they are structurally normal and they swim around normally (motility). There are many factors that affect the health of sperm and in turn, the fertility of a man. The most common being:


Sexually transmitted diseases such as gonorrhea and chlamydia


Blockages or birth defects that prevent the sperm from entering the semen and out through the penis


Retrograde ejaculation, a condition where semen moves backward into the bladder instead of out through the penis


Genetic disorders such as cystic fibrosis (condition that alters the production of sweat and mucus)


Autoimmune diseases that can damage sperm as the immune system mistakes it for foreign virus


Hormonal imbalances in the thyroid and pituitary glands, which produce male hormones


Varicoceles or enlarged varicose veins in the scrotum


Sexual problems such as premature ejaculation and erectile dysfunction


Certain medications such as antidepressants


Conditions such as tumor, diabetes, heart disease and high cholesterol


Treatments such as chemotherapy


Use of illicit drugs, excessive smoking and alcohol intake, stress, excess exercising, and exposure to high heat and toxins



Here is what you can do to help prevent male infertility:


Reduce tobacco, alcohol and avoid illicit drugs


Maintain a healthy weight


Reduce stress


Avoid exposure to excess heat, pesticides and toxins



There are many treatment modalities that can help one overcome infertility and assist in conception. As with most conditions, conservative methods are the first line of treatment. You may be prescribed medication to treat infections, sexual problems and hormonal imbalances. Structural defects in the male reproductive system may require corrective or reconstructive surgery. But when these do not help, assisted reproductive techniques (ART) are used. The sperm can be extracted from the testes and either injected directly into the uterus, or a high-quality sperm is fused with the egg in the lab and then introduced into the uterus for implantation.
Although it may seem embarrassing for most men to realize that they are infertile, it is critical for both men and women to get tested in the initially so that the treatment protocol can be directed in the most effective way possible to result in a healthy pregnancy.
ReproMed Fertility Center is committed to providing comprehensive infertility and reproductive health care, including In-vitro fertilization (IVF). Our physicians formulate individualized treatment plans for each patient so they have the best chance of conceiving. ReproMed Fertility Center can offer new hope to those seeking to overcome infertility in the Dallas-Fort Worth area.