Adenomyosis
Adenomyosis is a condition where the endometrium (endometrial lining) breaks through the muscular wall of the uterus, and can occur throughout the uterus, or to a specified location. Although this condition causes heavy bleeding and pain, it is not considered to be life-threatening and can typically be treated with medication to diminish associated symptoms.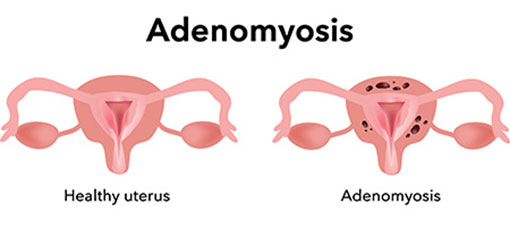 SYMPTOMS
While some women diagnosed with adenomyosis have no symptoms, others may experience:
Heavy, prolonged menstrual bleeding
Severe menstrual cramps
Abdominal pressure and bloating
CAUSES
Though the cause of adenomyosis isn't known, studies have suggested that hormones and other factors may trigger the condition, including:
Estrogen, Progesterone, Prolactin, and FSH
Invasive tissue growth (c-section)
Development of uterus formed in fetus
Uterine inflammation related to childbirth
Bone marrow stem cells:
DIAGNOSIS
The following techniques are used to determine if adenomyosis is suspected:
Signs and symptoms
A pelvic exam that reveals an enlarged, tender uterus
Ultrasound imaging of the uterus
MRI of the uterus
TREATMENT
Various treatment options for adenomyosis can help decrease associated symptoms and include:
Anti-inflammatory drugs (Ibuprofen, Advil, or Motrin for pain)
Hormone medications (such has birth control, to decrease heavy bleeding)
Hysterectomy (when all other treatment routes fail, but isn't necessary)
Other options to help ease pelvic pain and cramping related to adenomyosis include:
Soak in a warm bath
Use heating pad on abdomen
You will need the Adobe Reader to view and print these documents.