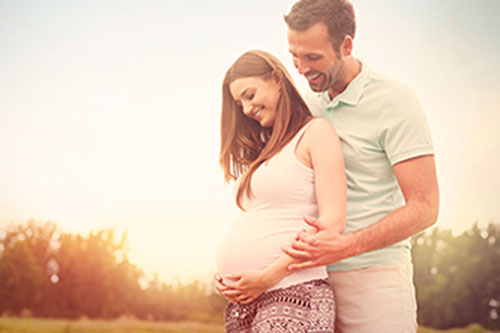 Cervical fluids, also known as cervical mucus or cervical discharge, is a normal secretion from glands in your cervix. It provides an alkaline medium that nourishes sperm and helps the sperm move into the uterus to fertilize the egg. The consistency of your cervical mucus varies depending on hormonal changes. Tracking your cervical mucus changes can tell you a lot about your fertility and may help you get pregnant.
While every woman's body is different, in general you should be able to make out the following changes in consistency of cervical mucus:
Scant or sticky cervical mucus: This is an indication that you are not ovulating yet. The cervix at this point is an unfriendly environment for the sperm.
Creamy cervical mucus: Your ovulation time is approaching shortly.
Watery and slightly stretchy cervical mucus: Your ovulation time is very close. Now is the time to get ready for sexual intercourse.
Very wet and very stretchy cervical mucus resembling the white of a raw egg: This is an indication that ovulation is imminent, and the cervical mucus will provide the perfect environment for sperm to thrive. This is the ideal time for sexual intercourse.
Ways to check cervical fluids include swabbing with your finger inside your vagina to check consistency of the cervical mucus, other options would be to examine the consistency of the discharge on your underwear or on the toilet paper after you urinate, paying close attention to the consistency changes each day.
When using this method to determine the right time to have sex for achieving pregnancy, you should avoid checking cervical mucus when you are aroused as arousal fluids are different from cervical mucus, but you may not be able to tell the difference between them.
Dr. Anil Pinto is board certified in Obstetrics and Gynecology and the subspecialty of Reproductive Endocrinology and Infertility. Dr. Pinto has a special interest in the treatment of Polycystic Ovarian Syndrome (PCOS), recurrent pregnancy loss, and advanced reproductive technologies, such as IVF. His peers recently selected him as one of the Best Doctors in Dallas in the field of reproductive endocrinology and infertility. Dr. Pinto is married to Karen Pinto, M.D., a pathologist at Baylor University Medical Center. They live in Dallas with their son and daughter. Dr. Pinto enjoys fly fishing, classical music, and playing the flute.