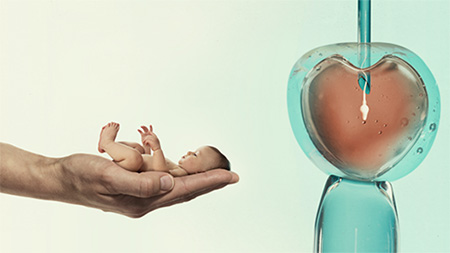 There are many reasons why couples may experience difficulty getting pregnant. If the cause of infertility is unexplained or caused by male infertility, IUI may be the best route to explore.
Intrauterine insemination (IUI) is an artificial insemination procedure for treating infertility. The medical procedure places sperm past the cervix in a woman's uterus around the time of ovulation. IUI makes the passage to the fallopian tubes much shorter, providing the women with a better chance that more sperm will come into contact with the egg. This procedure aims to improve a woman's chance of getting pregnant.
Once the semen is collected, it is then washed to concentrate the sperm and remove the seminal fluid. This process can take up to 2 hours to complete. IUI is most successfully done near the woman's ovulation cycle. IUI is a relatively quick and painless procedure. The woman will lie on an examining table while her physician inserts a speculum. The catheter is a narrow tube inserted into the cervix, and the semen is injected slowly. Mild cramps and spotting is normal for a day or two after the procedure.
After the process, you will be asked to lie on your back for a brief period. Once the procedure is over, you can get dressed and go about your usual daily activities. After week two, most doctors recommend a blood test, which is more sensitive in detecting pregnancy hormones than home tests. If you are not pregnant at this time, trying IUI again is recommended. The same fertility treatment is often recommended to be tried for three to six months to maximize your chances of getting pregnant.
ReproMed Fertility Center offers personalized fertility treatments in six convenient locations in the Dallas metroplex and one in Tyler. Please contact us at (214) 827-8777 or visit www.repromedfertility.com for all appointments and information.
Dr. Anil Pinto is board certified in Obstetrics and Gynecology and the subspecialty of Reproductive Endocrinology and Infertility. Dr. Pinto has a special interest in the treatment of Polycystic Ovarian Syndrome (PCOS), recurrent pregnancy loss, and advanced reproductive technologies, such as IVF.