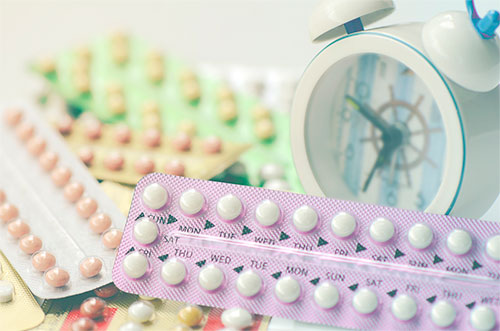 You've got the job, the house, and the partner. Finally, the time feels right. You are ready to start trying to conceive. Now what? How long before trying to conceive should you stop using your birth control? Will using birth control in the past make it harder to get pregnant now? What can you do to get your body ready for pregnancy?
The first step in trying to conceive is to stop using your current birth control. Each birth control method acts a little differently on the body to prevent pregnancy. You will need to know how and when to stop the specific type you use. Here is when you can expect fertility to return for these common types.
Pills. There are two types of birth control pills. Both work by using hormones in the body to prevent pregnancy.Combined pills work by usingtwohormones, estrogen and progestin,to suppress ovulation (the release of an egg from the ovary.)The hormones in these pills leave the body within a couple of days after you stop taking the pill. Once the hormones are gone ovulation can resume. At that time, you are fertile and pregnancy can occur. It is recommended to finish the month's worth of combined pills to keep from confusing the body by sudden change in hormones. Mini-pills contain only progestin and work bypreventing sperm from reaching the egg. Progestin leaves the body in around 24 hours allowing fertility to return quickly. Mini-pills can be stopped at any time.
Intrauterine device (IUD) and Implants. There are two types of IUDs, copper and hormonal. Both types must be removed by your doctor. Once your IUDis removed,it is possible to ovulate within the first month. Like an IUD, your doctor must remove your implant. Once removed, you can get pregnant right away.
Patch and Vaginal Ring. Ovulation usually returns 1-3 months after removal for both patches and vaginal rings at which point it is possible to get pregnant.
Injections (Depo-Provera). This type of birth control requires longer than others for normal fertility to return. Since hormones are released gradually, it takes longer for them to leave the body. This can take anywhere from 3-18 months for fertility to return. Therefore, it is not recommended for those who are trying to conceive in the near future.
In addition to stopping your birth control, you will want to take steps to prepare your body for pregnancy. Start taking a prenatal vitamin three months before trying to conceive. Vitamins, along with a healthy diet, are crucial to help ensure that your body is ready tosupport a healthy pregnancy. Lifestyle choices like exercising, reducing stress, quitting smoking, and cutting back on alcohol intake are all very important as well. These will help increase fertility as well as give you a healthy start to your pregnancy.
The third step as you try to conceive, is learning more about your body so that you can recognize when you are fertile. Timing sex during your fertile window (the five days before ovulation and the day you ovulate) increases your chances of becoming pregnant quickly. Tracking your menstrual cycle with apps that note changes in your cervical mucus and basal temperatures can help you determine your fertile window. Ovulation tests are another option to help recognize when you are most fertile.
The good news is that long-term fertility is not negatively affected by birth control use. If you have decided the time is right to get pregnant, most forms of birth control allow you to become fertile again within a few days to a few months. It is then safe to get pregnant right away. Most women will become pregnant within a year of stopping birth control. However,the time it takes to conceive will depend on your individual body so if at anytime you have questions or concernsabout your fertility check with your doctor.
Dr. Anil Pinto is board certified in Obstetrics and Gynecology and the subspecialty of Reproductive Endocrinology and Infertility. Dr. Pinto has a special interest in the treatment of Polycystic Ovarian Syndrome (PCOS), recurrent pregnancy loss, and advanced reproductive technologies, such as IVF. His peers recently selected him as one of the Best Doctors in Dallas in the field of reproductive endocrinology and infertility. Dr. Pinto is married to Karen Pinto, M.D., a pathologist at Baylor University Medical Center. They live in Dallas with their son and daughter. Dr. Pinto enjoys fly fishing, classical music, and playing the flute.