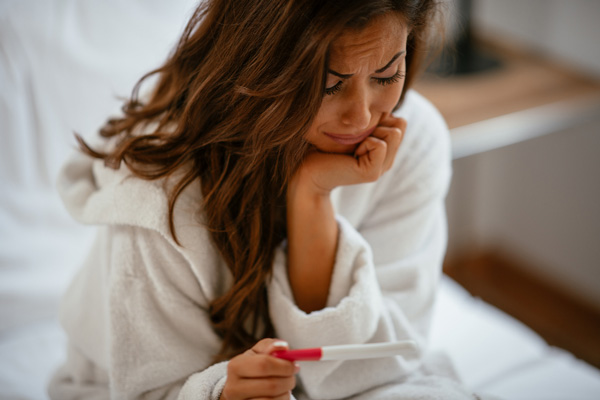 A miscarriage is the spontaneous loss of a developing baby in the womb before completing the 20th week of pregnancy. About 10 to 20% of all pregnancies end in a miscarriage. It can occur due to a variety of reasons which include chromosomal abnormalities in the baby or health conditions in the mother such as diabetes or intrauterine problems. Most often the exact cause is not known.
Having a miscarriage can take its toll on your body both physically and emotionally. Some of the pregnancy hormones may remain in your body for 1-2 months. You may experience light vaginal bleeding and abdominal pain as well as go through a roller coaster of emotions. It may take about 2-3 weeks before your mensuration cycle returns to normal.
It's important to take things gradually after a miscarriage. Do not rush the grieving process and let your body heal at its own pace. How long it takes to get pregnant after miscarriage varies from person to person.
Taking folic acid or prenatal vitamins a few months in advance of attempting to get pregnant, avoiding illicit drugs, alcohol, and smoking, limiting caffeine, and eating a well-balanced diet will improve your chances of getting pregnant.
Miscarriages are rare occurrences and most women go on to have healthy pregnancies after a miscarriage. Only about 1% of women have repeated miscarriages. In such cases the following tests may be required which include:
Blood tests to identify problems with your immunity or hormone levels.
Genetic testing to look for chromosomal abnormalities
Ultrasound imaging to identify fibroids or other structural abnormalities
Hysteroscopy to identify intra uterine problems
Other advanced diagnostic imaging studies such as hysterosalpingography, sonohysterography, and magnetic resonance imaging.
If you have been unsuccessfully trying to get pregnant for more than 6 months after miscarriage perhaps you should consult a reproductive endocrinologist or a fertility specialist.
ReproMed Fertility Center offers personalized fertility treatments in four convenient locations in the Dallas metroplex and one in Tyler. Please contact us at for all appointments and information.