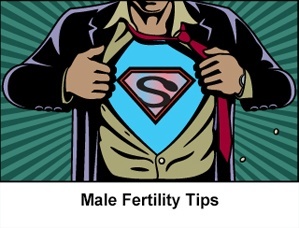 If you want to produce and fertilize an egg with the best quality, super sperm you need to commit to some simple easy lifestyle changes. First very important piece of information is that the sperm regeneration cycle takes about 74 days. It takes 21/2 to 3 months for sperm to fully mature. When sperm are initially formed they lack the ability to swim forward or fertilize an egg. So these lifestyle changes need to be long term not just a few days or weeks. These tips work for couples who are trying to conceive on their own as well as if your are producing a semen sample for fertility treatments, such as IUI or IVF.
THINGS TO DO


Keep a diet rich in Vitamin E, C, Zinc and Folate (water soluble B vitamin)


Protect / try to avoid infections


Keep stress low – manage your stress


Keep cool- temperature


Wear loose clothing and underwear such as boxers




THINGS TO AVOID OR NOT DO


Avoid pollution as much as possible


Avoid extreme temperatures- no hot tubs, overly hot baths or showers


No Drugs


No Smoking




It is also recommended that you abstain for ejaculating for 2 to 3 days as it affects sperm counts. That way you insure the greatest number of sperm available for fertilization.