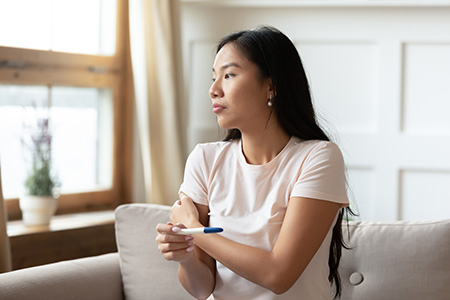 Endometriosis is a condition that occurs when the uterine lining tissue begins to grow outside the uterus. As the disease progresses, the growth can damage the surrounding organs and impact fertility. Often, this is a painful and progressive disorder affecting anywhere from 1 and 10 women.¹ Endometriosis is a factor in a woman's infertility, but it is usually only part of the story.
It is estimated that 30 percent of infertility cases are connected to endometriosis. An endometriosis fertility index scoring I-IV was developed to anticipate how likely a person will get pregnant without medical intervention. The factors for this scale include:
Age
Infertility length
Medical and health history
Prior pregnancies
Endometriosis stage I-IV
Ovarian function
Factors affecting a woman's fertility include tissue overgrowth around the ovaries preventing the egg from entering the fallopian tubes. If endometrial overgrowth is significant, it can prevent ovulation from occurring or prevent the egg and sperm from meeting. If you have endometriosis and are struggling with fertility, the first step is to get an evaluation from a fertility specialist.
There is a lot of hope, even with an endometriosis diagnosis. Your chances of conceiving are better than ever with so many new treatments options made available. It is also essential to remember that not every woman with endometriosis will struggle to conceive; many do not.
ReproMed Fertility Center offers individualized treatment options in six convenient locations in the Dallas metroplex and one in Tyler. Do not hesitate to get in touch with us at (214) 827-8777 or visit www.repromedfertility.com for all appointments and information.
Dr. Anil Pinto is board certified in Obstetrics and Gynecology and the subspecialty of Reproductive Endocrinology and Infertility. Dr. Pinto has a special interest in the treatment of Polycystic Ovarian Syndrome (PCOS), recurrent pregnancy loss, and advanced reproductive technologies, such as IVF.