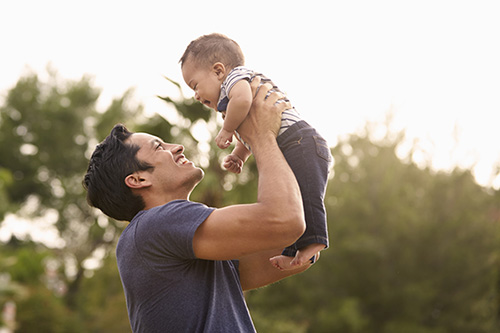 Healthy men can father children even in their 60s and 70s, while women in their late 40s or 50s can find it difficult to conceive. But that doesn't mean when couples are facing problems with infertility, the focus should be on the woman. With June being Men's Health Month, let's look at how common male infertility is.
According to research studies, about 33% of the cases of infertility in a couple are due to problems with the man. Another important finding is that in the past 40 years, sperm count in men has dropped by about 60%. This could be due to increased stress, sedentary lifestyles, smoking, obesity, and exposure to harmful chemicals that are part of the modern world.
As a male, your fertility depends on the quantity and quality of your sperm. Infertility can be caused by low sperm quantity, poor sperm quality, abnormal sperm shape, blockage in the tube that carries the sperm from the testicles to the penis, or dilated veins in the scrotum (varicoceles). Less common causes include whether semen can enter the vagina, low sex hormone levels, sperm antibodies, and genetic causes.
If the number of sperm is low or your sperm are of poor quality, it will be difficult and in some cases impossible to make your partner pregnant although there may be no obvious signs of male infertility. You will usually have no difficulty with sexual activity, getting an erection or ejaculating. It is only by undergoing medical tests with your doctor that you will be able to find out about your infertility.
Have you and your partner been trying for a pregnancy without success? Visit the reproductive specialists at the ReproMed Fertility Center for an in-depth evaluation and personalized treatment recommendation.
Dr. Anil Pinto is board certified in Obstetrics and Gynecology and the subspecialty of Reproductive Endocrinology and Infertility. Dr. Pinto has a special interest in the treatment of Polycystic Ovarian Syndrome (PCOS), recurrent pregnancy loss, and advanced reproductive technologies, such as IVF. His peers recently selected him as one of the Best Doctors in Dallas in the field of reproductive endocrinology and infertility. Dr. Pinto is married to Karen Pinto, M.D., a pathologist at Baylor University Medical Center. They live in Dallas with their son and daughter. Dr. Pinto enjoys fly fishing, classical music, and playing the flute.