Holiday Survival Tips while you're trying to conceive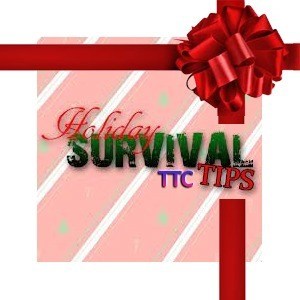 "Tis the season for having the salt rubbed into your wounds of infertility and trying to conceive. All those happy families joyously pictured in the cute and clever Christmas/Holiday greeting cards. Then there are all the holiday parties and family gatherings where you are surrounded by children and happy families. As well as the painful well meaning questions family and friends may ask about your plans for a family. No matter how hard you try to be strong it is like salt being rubbed directly into an open wound.
It can be very difficult to attend family gatherings but having a plan can make it more manageable. Go into these events ready with a plan and strategies to make it as enjoyable as possible.


Plan ahead to treat yourself.



Pamper yourself in preparation for the holidays and all the family gatherings. Schedule a massage or facial, or buy yourself something special and don't feel guilty! This way you go into the event feeling as good as possible.


Plan your strategy as a couple.



Decide which and how many events to attend. Do not give into the pressure to attend all events you do not need the extra stress or challenge, infertility is hard enough.
Break the event into parts. Divide the event into parts and stay for a selected part of the event such as the cocktail portion or decide to stay for a certain amount of time. That way, once you hit your target you can make a discrete exit or stay longer if you are up to it. Either way you can leave with the feeling of accomplishing the goal you set for yourself.


Create an elevator speech to deal with difficult questions.



Be prepared with a practiced well-delivered answer to all those painful holiday questions such as: "Do you have children?" "When are you going to have children?" The strategy here is to make sure your responses satisfy the questions without eliciting further questions or advice that you may not want.
A few examples of responses to these questions would be:
"Not sure. So, how's your new job?" –This avoids the subject and changes the topic of conversation.
"Ask the powers that be, because I don't know." – This is an excellent response because it points out that it is out of your control and ends the discussion without having to give any details or eliciting any further questions.
"We have a whole team of experts working on that."- This is a good response is you feel like talking a little about it.
"I'd rather not talk about it, thanks." – This response lets the person know that they accidently brought up a painful topic and they will most likely switch the topic of conversation immediately.
And if this still doesn't help, walk away. Coping with infertility is hard enough. Dealing with upsetting questions or individuals (even if they might be family) is not something that will help you cope.


Plan an exit signal.



Have a private signal that indicates it's time to leave the party or gathering. Having a mutual understanding that there might be a time limit on chatting with friends and family can be a source of relief.
5. Take a walk if you need a break.

If you are in good health and the weather allows, exercise can burn off anxiety and also allow for some alone time or time together as a couple to support each other.
6. Talk with someone.

It might help to talk with someone who is also going through fertility treatment so you can share the mixed emotions that the holiday season can bring.