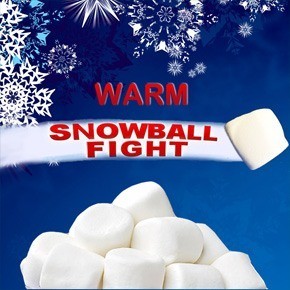 Warm Snowball Fight
Snow Fun without the cold! This spin on a snowball fight is a lot of fun for families, parties, adults and children. It is a lot of fun, and you can play no matter what the weather. This is a snow ball fight you can do in warm weather like Dallas! Also, the marshmallows are actually safer than real snowballs that might be packed hard or have ice in them.
Rules
You cannot gather and hold onto marshmallows. If you have more than 5 marshmallows you are subject to raiding (your marshmallows will be taken). This keeps the game moving.
If a person throws then too hard they are out of play for five minutes. This is rare as the marshmallows really do not hurt unlike the ice filled real snowballs.
How to play and what you need
Get large marshmallows and count how many you are going to play with. Then throw them one person throws them throughout the play area. At that point the game is on and marshmallow fly everywhere. There are a few rules listed below that insure it is safe and fun. At the end of the game marshmallows are collected and counted.