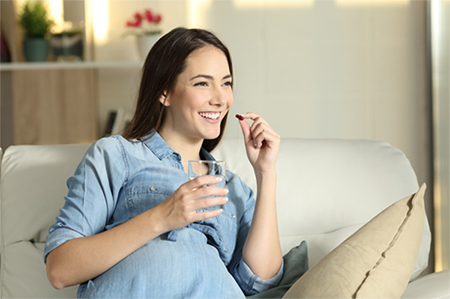 When considering getting pregnant, you may wonder why there is such a fuss about folic acid? Folate and its synthetic cousin, folic acid (vitamin B-9), are essential in red blood cell formation and healthy cell growth and function. Folate is crucial during early pregnancy to reduce the risk of congenital disabilities of the brain and spine. Having a high enough folate level in the blood can help prevent birth irregularities, the CDC suggests beginning to take a folic acid supplement one month before conception1.
What is the difference between folate and folic acid?
Folic acid is the synthesized version that gets commonly added in processed foods and supplements. Folic acid can be an additive in these traditional foods - fortified pasta, rice, corn masa flour, fortified breakfast cereals, and fortified bread.
Folate occurs naturally in many foods. Some foods contain more folate than others. Here is a list of the foods containing the highest amounts of folate: beef liver, spinach, fortified breakfast cereal, asparagus, and black-eyed peas.
Eating a rich diet full of various sources of folate will help an individual maintain a good balance of nutrients to provide their baby with a healthy brain and spine. Nutritional knowledge gives us the power to make informed choices about our unique pregnancy needs. Consult with your doctor about the best prenatal supplement for your body.
ReproMed Fertility Center offers personalized fertility treatments in six convenient locations in the Dallas metroplex and one in Tyler. Please contact us at (214) 827-8777 for all appointments and information.
Dr. Anil Pinto is board certified in Obstetrics and Gynecology and the subspecialty of Reproductive Endocrinology and Infertility. Dr. Pinto has a special interest in the treatment of Polycystic Ovarian Syndrome (PCOS), recurrent pregnancy loss, and advanced reproductive technologies, such as IVF.