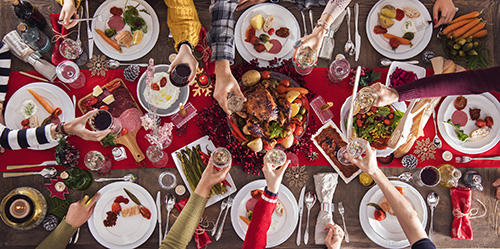 It's that time of year again. Decorations, celebrations, and food – so much food! Everywhere you go there are holiday treats to tempt you. This season since you are "eating for two" it feels easy to justify a little taste here and an extra helping there. Just keep in mind that although you do need extra calories during pregnancy they should come from foods that will provide your baby with the nutrients that he or she needs to grow and develop. Eating healthy foods will also help to protect you against aches, pains, and lack of energy that can slow you down during pregnancy. When you start to fill your plate at those holiday parties, fill it with the best for you and for the baby.
During pregnancy, your body needs larger amounts of vitamins and minerals. Taking a prenatal vitamin will help provide some of these, but a large portion will need to come from your diet. Here are some delicious options to help you celebrate the holidays:
Dairy - Packed with protein and calcium, dairy products are a great choice to support your baby's growth. They also provide fats that your baby needs for healthy brain development. Whether you are drinking a glass of milk with dessert, sampling a cheese platter at a party, or eating Greek yogurt for a quick breakfast, choosing dairy is a healthy option for your baby. However, unpasteurized dairy products (such as soft cheeses like brie or feta) may contain listeria which can be harmful to your baby. Always make sure that you are eating only pasteurized dairy products.
Sweet Potato - This vegetable is a holiday favorite. High in many vitamins and minerals, especially vitamin A which aids in cell growth and repair, it is a great choice to aid in your baby's growth. Sweet potatoes are also a great source of fiber to help keep your digestive track healthy, and its sweet flavor can help satisfy your sweet tooth.
Green Leafy Vegetables - Broccoli, kale, and spinach may not be the most exciting dishes on the table this holiday, but they are packed with lots of things that you and your baby do not want to miss. Calcium, folic acid, iron, fiber, vitamins C, K, and A are just a few of the nutrients these superfoods provide. Aim for two servings of these a day to help keep you and baby healthy.
Nuts - Nuts have been a part of holiday celebrations for centuries, and they are another great option for pregnant moms. There are sure to be some walnuts, almonds, peanuts, cashews, or pecans at any holiday get together you attend. Filled with omega-3 fatty acids, zinc, and protein any of these are healthy choices for a snack or as part of a meal.
Fruits - Fruits are another traditional holiday food. Whether you pick oranges, apples, bananas, or berries, you can feel good about choosing one of these. The vitamin C, potassium, and antioxidants they provide are great for baby's development, as well as building up your immune system. Fruit, fresh or dried, is a highly recommended choice if you are craving something sweet this holiday season.
Eggs - Eggs contain many of the nutrients needed to keep you and baby healthy. Protein, healthy fats, and choline are just a few of the benefits eggs provide to your growing baby. They also contain iron to help to protect you against anemia and low energy levels. It is important though to avoid raw or undercooked eggs as pregnant women are at increased risk for salmonella.
With all the delicious treats this season has to offer it can be difficult to keep your diet balanced. Just remember to first fill your plate with healthy food options. Then you can indulge in a few of your favorite treats in moderation. This way you can enjoy your holiday food and help your baby grow healthy too!
Dr. Anil Pinto is board certified in Obstetrics and Gynecology and the subspecialty of Reproductive Endocrinology and Infertility. Dr. Pinto has a special interest in the treatment of Polycystic Ovarian Syndrome (PCOS), recurrent pregnancy loss, and advanced reproductive technologies, such as IVF. His peers recently selected him as one of the Best Doctors in Dallas in the field of reproductive endocrinology and infertility. Dr. Pinto is married to Karen Pinto, M.D., a pathologist at Baylor University Medical Center. They live in Dallas with their son and daughter. Dr. Pinto enjoys fly fishing, classical music, and playing the flute.