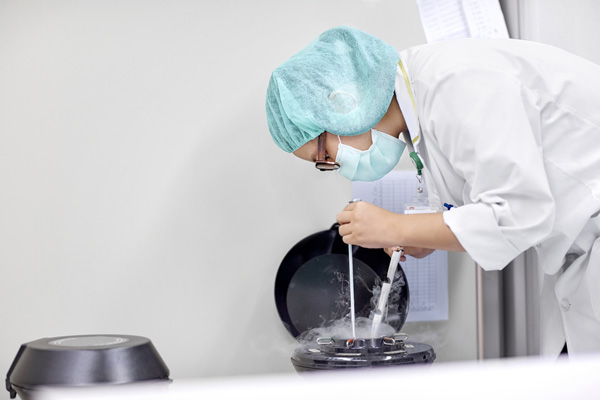 Did you know that about 1 in 3 people in the US will develop cancer during their lifetime? Fortunately, the prognosis is pretty good in most cases thanks to the breakthrough advances in cancer treatments over the last several decades. But what would it mean for your fertility?
It is quite normal to worry about how the cancer itself or the treatment of cancer will affect your fertility. First, a diagnosis of cancer can negatively impact your sex life. Other forms of intimacy such as hugging, holding, and cuddling may become more important to you than having sex.
Second, cancer treatments like radiation, chemotherapy, and surgery are likely to damage the reproductive organs causing temporary or even permanent infertility. This would depend on the type of cancer and the treatment modality used.
You can get pregnant while receiving cancer treatment, but most doctors would recommend waiting for anywhere between 6 months to 2 years after cancer treatments have been completed before attempting pregnancy to avoid side-effects of treatment. Occasionally, radiation treatments or other forms of cancer therapy may bring about premature menopause. The bottom line is, it is difficult to predict with absolutely certainty how your fertility will be affected.
Freezing unfertilized eggs is one of the best ways to control future fertility if you have been diagnosed with cancer. This is an excellent choice for women who don't have partner and it gives women in a relationship complete control over their frozen eggs.
Removal of the eggs may take 10-14 days depending on the menstrual cycle. Hormone injections are administered during this time to enable the collection of several eggs at a time. The unfertilized eggs are collected by a delicate procedure known as transvaginal ultrasound aspiration and stored at sub-zero temperatures for use in the future when it is considered safe to attempt pregnancy.
Before undergoing cancer treatment, it is best to discuss with your care provider or a reproductive specialist whether you might be a candidate for egg freezing.
ReproMed Fertility Center offers personalized fertility treatments in four convenient locations in the Dallas metroplex and one in Tyler. Please contact us at for all appointments and information.