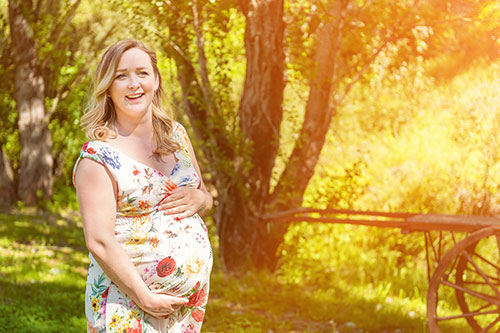 A woman's body undergoes a lot of changes during pregnancy, and hot summer weather does make it more difficult to cope with these changes. The actual likelihood of summer heat being harmful to your pregnancy is not common, but let's consider how this might occur.
Hyperthermia: Women may develop hyperthermia from fever due to hot weather, exposure to a virus, or even from taking a dip in a very hot tub. This may increase the risk of birth defects during the first 6-8 weeks of pregnancy. Medical experts advise spending no more than 10 minutes in a hot tub and staying in the shade when going outside to avoid risk of hyperthermia.
Dehydration: Pregnancy alters the way a woman's body handles fluids increasing the likelihood of dehydration causing dizziness, lightheadedness, and risk of falls.
False Contractions: Sometimes being hot and dehydrated in the summer can cause pregnant moms to feel like they are going into labor when they are actually not. Keep hydrated as much as you can. Not only is that going to keep you cool, but it can also help you keep from having contractions that could occur when you get dehydrated.
Risk of Food Contamination: Practice good food hygiene. Make sure that everything is prepared correctly. Stay away from things such as potato salad that have been out in the sun. When going for picnic lunches or celebrating the 4th of July, you should avoid lunch meat. When preparing cold meals for hot days, stay away from sushi or raw foods as they are not safe in general and especially so during pregnancy.
Increased Swelling in the Lower Extremities: Pregnant women may experience more swelling in their feet and ankles during pregnancy, so try to keep your feet up a couple of times during the day to reduce swelling.
Dr. Anil Pinto is board certified in Obstetrics and Gynecology and the subspecialty of Reproductive Endocrinology and Infertility. Dr. Pinto has a special interest in the treatment of Polycystic Ovarian Syndrome (PCOS), recurrent pregnancy loss, and advanced reproductive technologies, such as IVF. His peers recently selected him as one of the Best Doctors in Dallas in the field of reproductive endocrinology and infertility. Dr. Pinto is married to Karen Pinto, M.D., a pathologist at Baylor University Medical Center. They live in Dallas with their son and daughter. Dr. Pinto enjoys fly fishing, classical music, and playing the flute