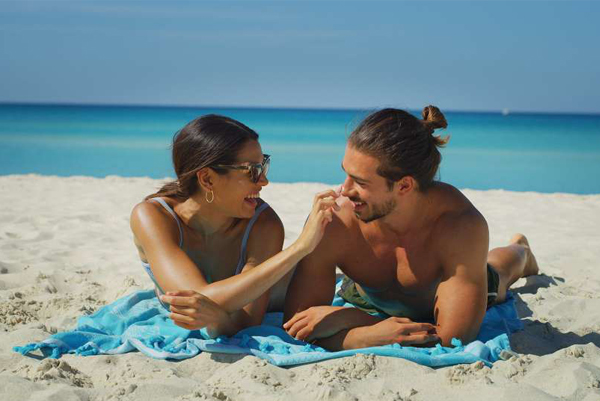 Summer is in full swing and the temperatures continue to soar, so many people may worry about what issues the heat brings with it. Among the many concerns, some may wonder whether prolonged exposure to high temperatures can impact fertility. Male fertility relies on the production of healthy sperm, which is affected by several factors such as hormone levels, genetics, lifestyle choices, and environmental conditions. Heat, in particular, can be a concern when it comes to maintaining optimal sperm health.
Elevated temperatures can interfere with the delicate dance of internal balance, potentially leading to a decline in sperm quality.1 Prolonged exposure to excessive heat can have several negative effects such as:
Reduced Sperm Count: High Temperatures can impair sperm production and lead to a decrease in sperm count. A low count can make it more difficult to achieve pregnancy.
Sperm Motility: Heat can affect the sperm's ability to reach an egg for fertilization, which reduces the chance of successful conception.
Altered Morphology: Heat stress can lead to abnormal sperm morphology, referring to a change in size and shape.
While our bodies have built-in ways of self-regulating temperature to protect us, extensive exposure to heat may still have implications on fertility. If you are planning or trying to conceive, remember these helpful tips to guide yourself toward the best chance of fertility:
Dress Appropriately: Wear loose-fitting, breathable clothing that allows for air circulation. Avoiding tight underwear or pants can lessen your risk of trapping unwanted heat.
Limit Artificial Heat: Excessive heat from hot tubs, saunas, or prolonged hot baths can negatively impact sperm health. It's best to limit exposure to these types of heat sources.
Hydrate: Staying adequately hydrated by drinking plenty of fluids helps regulate body temperature and supports overall health.
Limit Exposure: Avoid spending prolonged periods in hot environments. When able, seek shade, use fans or air conditioning, and take regular breaks in cool areas.
While summer heat can have a temporary impact on male fertility, It is important to stay mindful of the potential risks associated with high temperatures and take preventive measures to protect your reproductive health. By staying hydrated, dressing appropriately, and maintaining a healthy lifestyle, you can help mitigate any potential adverse effects and increase your chances of conceiving.
If you have concerns about your fertility, please schedule an evaluation with Dr. Anil Pinto today!
Dr. Anil Pinto is board certified in Obstetrics and Gynecology and the subspecialty of Reproductive Endocrinology and Infertility. Dr. Pinto has a special interest in the treatment of Polycystic Ovarian Syndrome (PCOS), recurrent pregnancy loss, and advanced reproductive technologies, such as IVF.