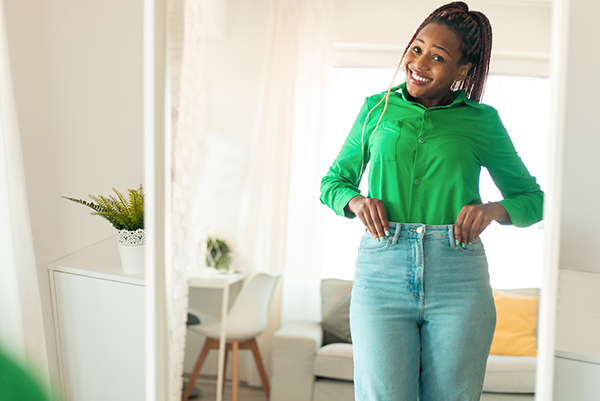 In September, we recognize it as PCOS Awareness Month! Polycystic ovary syndrome (PCOS) is a condition that affects approximately 5 million US women and is often considered the leading cause of infertility in females. Women with PCOS overproduce male hormones called androgens causing absent or irregular periods, ovarian cyst formation, and male hormonal traits.
In most cases, PCOS is developed due to a genetic predisposition in association with other risk factors including obesity, diabetes, issues with the adrenal gland, etc. Although you can't prevent a genetic predisposition to PCOS, there are steps you can take to reduce your other risk factors. Additionally, certain changes in your lifestyle will help to lessen the symptoms and risk of complications associated with PCOS.
Adopting a healthy lifestyle through eating a balanced diet and regularly exercising will help you to maintain a healthy weight. Obesity or weight gain is associated with high levels of insulin due to high sugar intake. When insulin levels are high, it can act on the ovaries by increasing the amount of androgens they produce, ultimately contributing to PCOS. Dedication to weight loss, if you are obese, can likely lower your chances of developing PCOS.
Diabetes is also associated with PCOS due to similar mechanisms as obesity. It is believed that those with diabetes, who require insulin treatment, could be getting excess insulin. This insulin can then act on the ovaries to produce more androgens and contribute to PCOS. Although it is not possible to prevent type I diabetes, you can take steps to lower your chances of developing type II diabetes by monitoring your sugar intake and weight.
Another promising method that can help to prevent PCOS is birth control. Birth control pills act to balance your hormones and regulate menstruation. In some cases, women with PCOS who regularly take birth control pills have successfully reduced hair loss, acne, or slowed unwanted hair growth associated with high androgen levels.
So while PCOS is not entirely preventable, you can still lower your risk of developing the disease by eliminating some of its risk factors. We should all be working towards a healthy lifestyle, but if you have a predisposition to PCOS, it should be your top priority.
If you have concerns or questions regarding polycystic ovarian syndrome or your fertility, contact Dr. Pinto at ReproMed Fertility Center for his expert advice today!
Dr. Anil Pinto is board certified in Obstetrics and Gynecology and the subspecialty of Reproductive Endocrinology and Infertility. Dr. Pinto has a special interest in the treatment of Polycystic Ovarian Syndrome (PCOS), recurrent pregnancy loss, and advanced reproductive technologies, such as IVF.