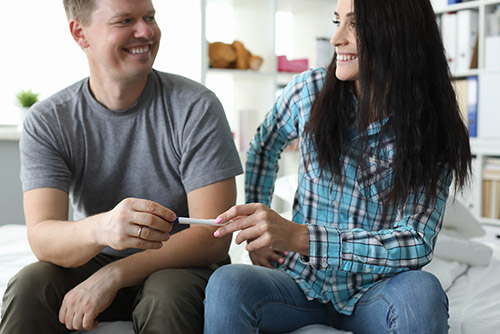 The causes for infertility are numerous and so are the treatment options. When spontaneous pregnancy does not occur, many couples can still hope to achieve pregnancy using assisted reproductive technology. The type of infertility treatment best for you would depend on the underlying cause of your infertility, your age, and your personal preference.
For women, treatments include medication, insemination, and in vitro fertilization. One or more of these treatments may be recommended to help you get pregnant. Medications may be used as part of infertility treatment to encourage the release of more eggs. These medications may be taken orally or injected. Periodic ultrasounds and blood tests will be ordered to monitor your response to the medications. Sometimes placing the sperm directly into the uterus (intrauterine insemination) may increase the chances of pregnancy.
A woman's eggs can also be fertilized outside the body through a process known as in vitro fertilization (IVF). The embryos are then placed back into the uterus to develop. IVF may work well for women who have fallopian tube problems, when there are issues with the sperm, or when other methods are unsuccessful.
In men, infertility may be cured by making lifestyle changes such as healthy eating, regular exercise, avoiding certain medications, quitting smoking, and limiting alcohol intake. When these changes don't improve your fertility, medications to increase testicular function improving sperm quantity and quality may be prescribed. Surgery may also be indicated to repair a varicocele or remove a sperm blockage in case that is the underlying cause of infertility.
If you have been trying successfully to achieve pregnancy for more than a year or if you are above the age of 35 years and would like to get pregnant, visit the ReproMed Fertility Center for an evaluation and treatment recommendation.
Dr. Anil Pinto is board certified in Obstetrics and Gynecology and the subspecialty of Reproductive Endocrinology and Infertility. Dr. Pinto has a special interest in the treatment of Polycystic Ovarian Syndrome (PCOS), recurrent pregnancy loss, and advanced reproductive technologies, such as IVF. His peers recently selected him as one of the Best Doctors in Dallas in the field of reproductive endocrinology and infertility. Dr. Pinto is married to Karen Pinto, M.D., a pathologist at Baylor University Medical Center. They live in Dallas with their son and daughter. Dr. Pinto enjoys fly fishing, classical music, and playing the flute.