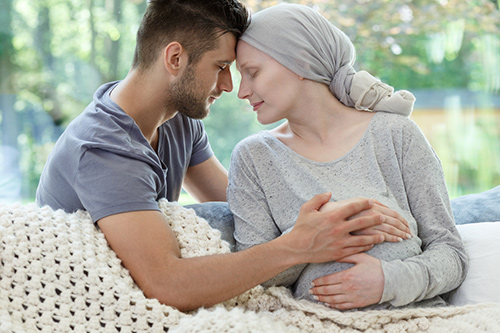 According to research studies about 1 in every 8 women will develop invasive breast cancer during her lifetime. It is a well-known fact that death rates due to breast cancer have been decreasing over the last several decades due to significant treatment advances and screening programs, but are you also aware that many breast cancer treatments can negatively impact your chances of having a baby?
Here's how some of the common treatments for breast cancer affect your fertility:
Chemotherapy: Depending on the type of chemotherapy drugs used, the functioning of your ovaries can be affected causing a reduction in the quantity and quality of your eggs. The drugs may cause amenorrhea, which is the cessation of periods. This may be a permanent or temporary condition. Even if your periods do return once the chemotherapy treatments are stopped, your fertility could still be affected.
Hormone treatments: Certain types of breast cancers respond well to hormone treatments. However, these treatments are usually given for greater than 5 years and you are generally advised not to get pregnant while receiving treatment. If you are in your 30s or 40s, you may enter into menopause when the treatment is completed.
Radiation therapy: These treatments use high-energy rays to kill the cancer cells. Even if the radiation is not directed towards your ovaries, the rays may scatter internally from the breast to other parts of the body and damage your eggs leading to infertility.
Surgery: Removal of the ovaries may be recommended in some women as part of breast cancer treatment and for women who have a genetic predisposition to developing cancer.
If having your own biological children is important to you; treatments such as IVF, embryo preservation, or egg freezing offered at the ReproMed Fertility Center may be an option and should be considered BEFORE undergoing breast cancer treatment.
We work in coordination with your oncologist to develop a personalized treatment plan. There will be no delay in receiving your breast cancer treatment as the process of fertility preservation can be done in no more than 2 weeks. Procedures such as egg harvesting and egg freezing can be completed as outpatient procedures.
The fertility specialists at ReproMed Fertility Center are dedicated helping you realize your goal of starting a family. For all appointments & inquiries, please call or click here to request an appointment online.
ReproMed Fertility Center offers personalized fertility treatments in four convenient locations in the Dallas metroplex and one in Tyler. Please contact us at for all appointments and information.