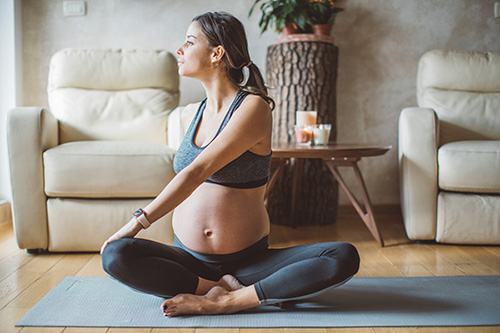 Exercising during pregnancy offers many benefits. Besides improving physical health, it helps you cope with mental stresses associated with pregnancy, and may also give your baby a healthy start in life. Here are some at home pregnancy exercises that you can safely perform as you shelter in place to help control the spread of COVID-19.
Squats: Stand with your feet slightly more than shoulder width apart and toes pointing outward. Lower your torso as if trying to sit down on a chair until your thighs are parallel to the floor. Hold for a second or two and come back up again.
Lying side leg raise: Lie on one side with legs slightly bent and on top of each other. Place a pillow under your belly for support if necessary. Straighten your top leg and lift it up to about a 45-degree angle and then slowly bring the leg down.
Incline push-ups: This is similar to doing regular push-ups, only you do them by placing your hands on a railing, table, or on the wall. The steeper the incline, the harder the exercise will be.
Pelvic tilts: Get down on your hands and knees with your wrists directly below your shoulders and your knees below your hips. Take a deep breath and arch your spine such that your tailbone tilts upwards and your belly moves slightly towards the floor. Now exhale and curl your spine upwards bringing your belly up and your pelvis slightly forward.
Bicep curls: Stand with your feet shoulder width apart and arms at your sides holding a light dumbbell or a bottle of water in each hand. Bring the weights towards your shoulder by bending your elbows to about a 45 degree angle. Slowly lower the weights to the starting position. This is a great exercise to help prepare your arms to carry your baby.
Do about 2-3 sets of each exercise aiming for 10-15 repetitions every alternate day. It is generally safe to do these exercises throughout your pregnancy, but to be on the safe side it is best to check with your doctor before starting a new exercise program.
Dr. Anil Pinto is board certified in Obstetrics and Gynecology and the subspecialty of Reproductive Endocrinology and Infertility. Dr. Pinto has a special interest in the treatment of Polycystic Ovarian Syndrome (PCOS), recurrent pregnancy loss, and advanced reproductive technologies, such as IVF. His peers recently selected him as one of the Best Doctors in Dallas in the field of reproductive endocrinology and infertility. Dr. Pinto is married to Karen Pinto, M.D., a pathologist at Baylor University Medical Center. They live in Dallas with their son and daughter. Dr. Pinto enjoys fly fishing, classical music, and playing the flute