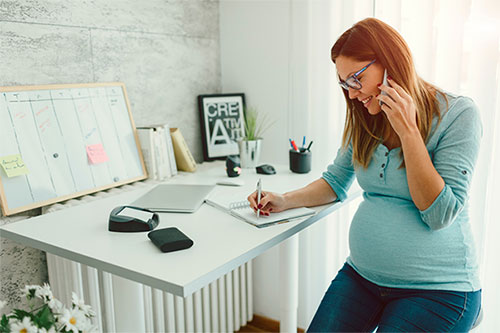 You may know a lot of women above the age of 35 years that get pregnant, but did you know being 35 or older is considered advanced maternal age? A woman's fertility begins to decline from age 30, and by 35 there is only a 15-20% chance that you might get pregnant every month. So age matters a lot, but it's not impossible to have a child later in life. Here are some tips for getting pregnant after the age of 35 years.
Live a healthy lifestyle: This means maintaining a healthy body mass index, exercising regularly without over-exerting yourself, cutting back on alcohol, avoiding smoking, eating a healthy diet with plenty of fresh fruits and vegetables, and getting regular health check-ups.
Track your ovulation: There are many online apps that help track your ovulation cycles You can use them to correctly identify your fertile days based on your input regarding basal body temperature and cervical mucus changes. Timing sex with your partner for ovulation will help improve chances of getting pregnant.
Avoid stress: Women at age 35 years may have a lot of responsibilities and some amount of stress does come with that. The stress itself may not prevent you from getting pregnant directly, but it may lead to unhealthy behaviors such as overeating, drinking, and sleeping less which negatively impacts your fertility. Prioritize and plan to avoid stressful situations at work, and try to incorporate relaxation techniques such as deep breathing or yoga into your regular schedule.
Don't delay seeking medical help: Time is a significant factor. Younger couples are usually advised to try to get pregnant naturally for about a year before seeking medical assistance. But those above the age of 35, should wait no longer than 6 months before seeking help from a reproductive specialist.
For women who are not yet ready to have a baby, either due to work or not finding the right partner to start a family with, options such as egg freezing may increase the chances of having a child when they do decide to get pregnant.
Dr. Anil Pinto is board certified in Obstetrics and Gynecology and the subspecialty of Reproductive Endocrinology and Infertility. Dr. Pinto has a special interest in the treatment of Polycystic Ovarian Syndrome (PCOS), recurrent pregnancy loss, and advanced reproductive technologies, such as IVF. His peers recently selected him as one of the Best Doctors in Dallas in the field of reproductive endocrinology and infertility. Dr. Pinto is married to Karen Pinto, M.D., a pathologist at Baylor University Medical Center. They live in Dallas with their son and daughter. Dr. Pinto enjoys fly fishing, classical music, and playing the flute.