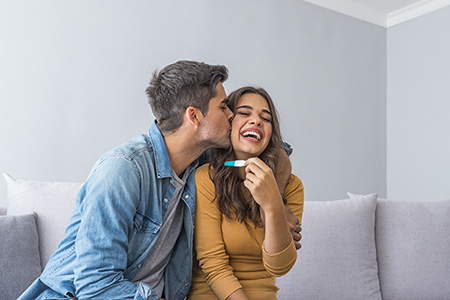 Over 80% of the time, fertility drugs can stimulate ovulation—fertility treatments are being done now more than ever. Current technology offers fertility treatments to make pregnancy a reality for many couples who would otherwise struggle. Fertility treatments are a highly involved process and can be both emotionally and physically taxing. However, certain things can help you prepare for fertility treatments to alleviate stress and increase the likelihood of a healthy pregnancy.
7 Tips to prepare for fertility treatments
Quit unhealthy habits - When starting fertility treatments, quit smoking, drinking, and staying up late to help prepare your body for a pregnancy while increasing the chances of getting pregnant.
Maintain a healthy weight - Being overweight can affect pregnancy. Excess weight increases the risk of a miscarriage and can affect outcome with in vitro fertilization procedure (IVF). A high BMI also affects the safety of undergoing anesthesia or sedation, which is necessary with IVF.
Eat a balanced diet - Eating a wide variety of fruits, vegetables, lean proteins, and healthy fats can help you maintain a good weight while building up nutrition for better overall health.
Get quality sleep - Sleep is crucial for cellular repair, maintaining stress levels, and essential for fertility. Set a goal of getting between 7/ 9 hours of quality sleep each night.
Maintain stress levels- Stress can hurt the chances of successful fertility. Seek ways to maintain stress during this process. Try things like acupuncture, walking, journaling, and meditating to decrease anxiety.
Change workout routines - Exercise is great for increasing fertility. Replacing running and extreme exercising like bodybuilding to a gentler routine. Yoga, walking, swimming, hiking, and biking are wonderful ways to get gentle exercise during fertility treatments and pregnancy.
Begin taking a prenatal vitamin - It is recommended to increase nutrients during fertility treatments. Prenatal vitamins are an excellent choice to ensure the body has enough folic acid, which aids in developing the brain and spinal cord during pregnancy. Please discuss with your doctor what prenatal vitamins they recommend.
We provide our patients with support and guidance while using the latest advanced reproductive technologies and treatments, including IVF. Contact the specialists at ReproMed Fertility Center to get started on your pregnancy journey at (214) 827-8777 or visit www.repromedfertility.com.
Dr. Anil Pinto is board certified in Obstetrics and Gynecology and the subspecialty of Reproductive Endocrinology and Infertility. Dr. Pinto has a special interest in the treatment of Polycystic Ovarian Syndrome (PCOS), recurrent pregnancy loss, and advanced reproductive technologies, such as IVF. ReproMed Fertility Center offers personalized fertility treatments in six convenient locations in the Dallas metroplex and one in Tyler. Please contact us at (214) 827-8777 for all appointments and information.