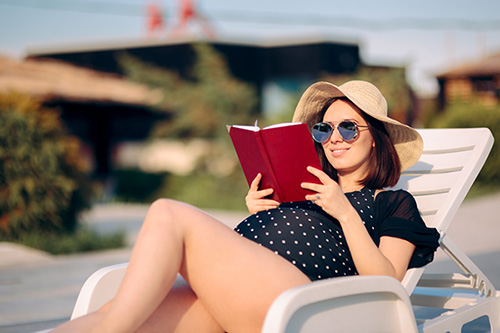 Are you expecting to have a baby but worried about how the summer heat might make things difficult? There's actually a sunny side to welcoming your child into the world during the days of summer. Here are 7 reasons to love a summer pregnancy:
You are less likely to catch a viral infection in the summer. According to The Centers for Disease Control and Preventions (CDC), flu activity peaks between December and February. This is primarily because warm weather in summer makes it hard for respiratory droplets to spread viruses.
Nature is at its colorful best in the summer. It is the time when the earth produces a wide range of fruits and vegetables making it easier to eat a well-balanced healthy diet.
You can get plenty of vitamin D from the sun. Vitamin D is an important nutrient that is essential for the growth and development of your baby's bones. As vitamin D is available in very small amounts in food, sunshine is the best source for this important vitamin.
Summertime is great for exercising outdoors. Walking and swimming are low impact summertime activities that help strengthen the body and relax your mind allowing you to better cope with the upcoming pregnancy physically and mentally.
Research shows that summer babies tend to be slightly heavier on average than winter babies and also have stronger immune systems.
You have many options for maternity clothes in the summertime. Regardless of how far along you are in your pregnancy, you can choose from a wide selection of comfortable summer dresses, tank tops, bathing suits to keep you feeling cool and looking great.
For many people,summer time equals vacation time so you don't have to worry about stresses related to work. The extra free time can be used by couples to connect in a special way before plunging into the responsibilities and joys of parenthood.
Dr. Anil Pinto is board certified in Obstetrics and Gynecology and the subspecialty of Reproductive Endocrinology and Infertility. Dr. Pinto has a special interest in the treatment of Polycystic Ovarian Syndrome (PCOS), recurrent pregnancy loss, and advanced reproductive technologies, such as IVF. His peers recently selected him as one of the Best Doctors in Dallas in the field of reproductive endocrinology and infertility. Dr. Pinto is married to Karen Pinto, M.D., a pathologist at Baylor University Medical Center. They live in Dallas with their son and daughter. Dr. Pinto enjoys fly fishing, classical music, and playing the flute.