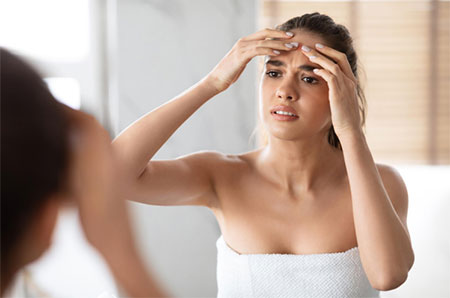 Many women have the desire to become pregnant, but often the idea of infertility is not really thought about until you are looking to start a family. There are a number of reasons why a woman might have difficulty getting pregnant or carrying a pregnancy to term. Considering 12% of women aged 15 to 44 years in the United States have difficulty getting pregnant or carrying a pregnancy to term, it's important to understand some of the warning signs of infertility.¹
Your body provides warning signs that you can learn to recognize to help you know when you might want to seek treatment. By listening to what your body is telling you and seeking the help of a physician sooner rather than later, you can help to increase your chances of getting pregnant now or in the future.
Here are some warning signs that you should look out for:
A Change to Your Menstrual Cycle: Skipped periods, a change in the flow or experiencing an irregular cycle can all be warning signs. If you notice a change in your menstrual cycle, it may be a good idea to track your cycle to chart changes and patterns. There are many helpful apps that can help with tracking your cycle. This information can be helpful when following up with your physician
Painful Periods: If you experience severe pain during menstruation and pain during intercourse, these can be signs of endometriosis which can have a negative effect on your ability to conceive. Endometriosis occurs when endometrial tissue grows on your ovaries, bowel, and tissues lining your pelvis, and 30% to 50% of women with endometriosis may experience infertility.² Medical and surgical options are available to help reduce your symptoms and manage any potential complications.
Unexplained Hair Growth: If you notice hair growth on your face, arms, chest or back, this may be related to the overproduction of male hormones. This is often a symptom of Polycystic ovarian syndrome (PCOS) which can also cause small cysts to grow on your ovaries and affect your ability to get pregnant.
Weight Gain or Loss: If you have unexplained weight gain or weight loss without a change to your diet or exercise routine, this may be a sign of PCOS or issues with your thyroid. Your weight can serve as a good indicator of your fertility. Being overweight or under your ideal weight can both have negative effects on your fertility.
Acne: Severe breakouts as an adult or other skin changes may indicate that your hormones are out of balance. Acne can also be a sign of PCOS which has the potential to negatively affect your fertility.
If you notice any of these warning signs, it is important that you schedule time to speak with your doctor. If you have been trying to conceive without success it may be time to meet with a reproductive endocrinologist. ReproMed Fertility Center offers personalized fertility treatments in six convenient locations in the Dallas metroplex and one in Tyler. Please contact us at (214) 827-8777 or visit www.repromedfertility.com for all appointments and information.
Dr. Anil Pinto is board certified in Obstetrics and Gynecology and the subspecialty of Reproductive Endocrinology and Infertility. Dr. Pinto has a special interest in the treatment of Polycystic Ovarian Syndrome (PCOS), recurrent pregnancy loss, and advanced reproductive technologies, such as IVF.
1.www.cdc.gov/reproductivehealth/infertility/index.htm#:~:text=About%206%25%20of%20married%20women,to%20term%20(impaired%20fecundity)
2.www.reproductivefacts.org/news-and-publications/patient-fact-sheets-and-booklets/documents/fact-sheets-and-info-booklets/endometriosis-does-it-cause-infertility/#:~:text=Does%20endometriosis%20cause%20infertility%3F,with%20endometriosis%20may%20experience%20infertility