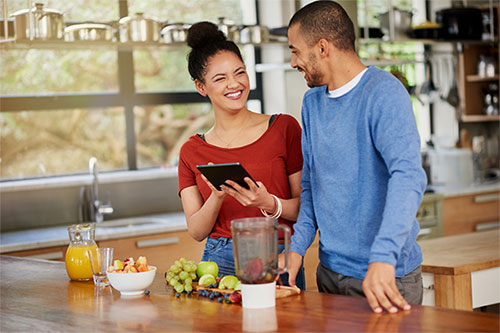 What you eat on a regular basis does play an important role in helping you become pregnant and give birth to a healthy baby. To ensure you are eating a well balanced diet, here are 10 nutritious foods that are known to help increase fertility:
Salmon: This fish contains a lot of essential omega-3 fatty acids that boosts fertility in both men and women, It also boosts selenium, which contributes towards the formation of healthy sperm, and vitamin D, which having a lack of results in poor fertility in both men and women. Opt for wild caught salmon instead of the farm raised variety to reduce risk of contamination by food dyes, antibiotics, or mercury.
Cinnamon: Studies have shown that cinnamon supplements may help women with PCOS have more regular menstrual cycles which will increase the opportunities to conceive.
Pineapple: This tropical fruit contains bromelain, a natural enzyme that has anti-inflammatory properties, and vitamin C all of which help promote ovulation.
Whole Eggs: Eggs are a great source of lean protein which improves fertility in both men and women. The egg yolk is packed with plenty of essential micronutrients and eggs also contain choline that may prevent birth defects in children.
Walnuts: Being rich in omega 3 and omega 6 fatty acids, a handful of walnuts every day make a great nutritious snack that supports fertility by improving sperm shape and motility.
Beans and Lentils: They are excellent sources of folate and fiber which maintain proper hormone balance. Lentils contain polyamine spermidine, which help in the fertilization of the egg by the sperm.
Tomatoes: They contain lycopene, a powerful antioxidant which has been shown to improve semen health and pregnancy rates. Opt for cooked tomatoes as it contains twice the amount of lycopene as raw tomatoes.
Full-fat diary: For those who can tolerate it, full-fat dairy is an excellent source of saturated fat which is beneficial for fertility. It is also packed with many vitamins that help improve overall health.
Pomegranates: They are loaded with antioxidants, which in some studies have shown to improve sperm quality.
Citrus fruits: Oranges and grapefruit are citrus fruits rich in vitamin C that stabilize ovulation and help in the release of the egg. They also contain polyamine putrescine which improves egg health and reduces chromosomal defects.
While a nutritious diet will certainly support fertility in both women or men, if you have been unable to get pregnant for more than a year, there could be an underlying medical condition that is preventing pregnancy and you should visit a reproductive specialist for an in-depth evaluation.
Dr. Anil Pinto is board certified in Obstetrics and Gynecology and the subspecialty of Reproductive Endocrinology and Infertility. Dr. Pinto has a special interest in the treatment of Polycystic Ovarian Syndrome (PCOS), recurrent pregnancy loss, and advanced reproductive technologies, such as IVF. His peers recently selected him as one of the Best Doctors in Dallas in the field of reproductive endocrinology and infertility. Dr. Pinto is married to Karen Pinto, M.D., a pathologist at Baylor University Medical Center. They live in Dallas with their son and daughter. Dr. Pinto enjoys fly fishing, classical music, and playing the flute.